Edwin Rostron, 3rd March 2015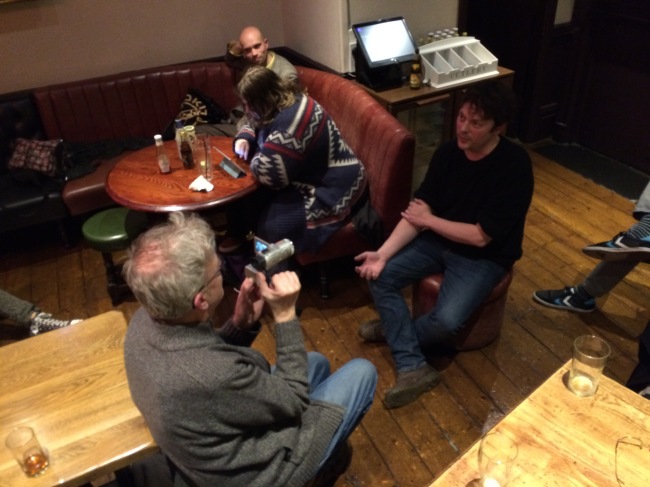 Edwin Rostron being filmed by Stuart Pound
Our special guest was Edwin Rostron, a London-based artist and animator (www.edwinrostron.net), who also runs Edge of Frame, a blog about experimental animation (http://www.edgeofframe.co.uk/about/). Edwin was in the year below me at the RCA. When I met him again in August 2014 when he was presenting work at a Whirlygig Cinema event, I was impressed not only by his actual films, but the means and attitudes he employs to make them.
Edwin as filmed by Stuart Pound
Edwin makes non-narrative animations which are almost entirely drawn in pencil on paper. His aim is to tap into something unconscious and to make something intuitive. His work is process-driven and not planned in advance; he draws and sees what happens. "It's difficult enough doing a film when you don't know what you're doing, but when you don't it's awful!" He wants to make films which are an intense experience but one which you cannot articulate in words.
Edwin exists in a zone outside commercial or funded filmmaking arena. "Chasing funding is very detrimental to your work," he explained. This echoes the views of our earlier guest, Phil Mulloy, who produces animations without any outside funding or interference, making the films exactly as he wants them to be.
Working in a vacuum, Edwin felt understandably isolated and started to look for other artists occupying the same space. When, about three years ago, he started to discover similar work online, he decided to create a blog to promote the work and to interview the artists and this became Edge Of Frame.
At our event Edwin presented a selection of his own films and those of certain artists he has featured on the blog. He kindly sent me some notes in advance on some of the featured artists, which I include in italics.
Of Unknown Origin (2010) by Edwin Rostron: an abstract animation accompanying a recording of Unexplained Noise Phenomenon made by Raymond Cass.
Crux Film (2013) by Lilli Carre and Alexander Stewart. Lilli and Alexander are Chicago-based artists, she a cartoonist, he an experimental filmmaker. In this beautiful film, lines describe waves on a shore, surfaces balance delicately balance on pins and sound is rendered in visual form – but that is just my interpretation.
Of Alexander Stewart, Edwin writes: "
Alexander Stewart's short films have screened internationally, including at the International Film Festival Rotterdam, the Tribeca Film Festival, and ImageForum in Japan. He is co-director of the Eyeworks Festival of Experimental Animation, and teaches animation at DePaul University in Chicago.
"Edge of Frame interview with him and Lilli Carre about their experimental film festival Eyeworks here: http://www.edgeofframe.co.uk/eyeworks/ An interview with him here: https://www.youtube.com/watch?v=CmQadfYdM-0."
Watching Mysteries With My Mother by Edwin Rostron. This is the first Single Sentence Animation from Recommended Reading, Electric Literature's new weekly fiction magazine and is taken from a sentence by author Ben Marcus. Edwin drew this film in pencil before colouring it in PhotoShop.
Our Selves Unknown (2013) by Edwin Rostron. A film about landscape and dislocation, composed of cycles of pencil drawings, assaulted by stains of black ink.
Yield by Caleb Wood (2013), a film made sequential cadavres of roadkill. Like Edwin's, Caleb's work is an improvisation but one which depends on the chance encounter.
Of Caleb, Edwin writes, "Caleb Wood is one of the most talented and hardworking young experimental animators around today. Since graduating from the Rhode Island School of Design in 2011, Caleb's work has been shown widely around the world in numerous festivals. He was chosen for the prestigiousJAPIC Animation Artist in Residence Tokyo programme 2012-2013, he is part of the international animation collective Late Night Work Club and was the 2014 Festival Guest at Eyeworks Festival of Experimental Animation. Edge of Frame interview with Caleb here: http://www.edgeofframe.co.uk/caleb-wood/ ."
Cosmic Clock by All Jarnow. A man sits in a park holding a stopwatch, watching human time give way to geological time and finally cosmic time.
Of Al, Edwin writes: "Al Jarnow is an animator, artist, sculptor, and filmmaker, whose video and animation works encompass sequences for Sesame St, including the legendary Cosmic Clock, and more personal explorations of light, shape and form. His work has influenced a generation of artists and animators, and his work has been shown at museums, festivals, universities, schools, and televisions around the world."
Velocity (2012) by Karolina Glusiec. This film she made at the Royal College of Art won the Jerwood Drawing Prize.
Edwin then closed his talk with
Cul De Sac Of Mortality (2012) by Edwin Rostron. Edwin made this film for Kerry Baldry's One Minute touring programme of artists' films and videos. It follows on from his earlier monochrome films but here Edwin introduces colour pencils.
Many thanks to Edwin.
Please watch the video recording of the evening for more information, kindly shot by Stuart Pound:
Here are Edwin's Links:
http://www.edgeofframe.co.uk/about/
https://vimeo.com/edwinrostron
Edwin also sent me a link to a documentary on Alexander Stewart's work:
Alexander's website http://www.protozone.net/AJ/Jarnow.html.