Emma Calder and Boudica, 4th February 2014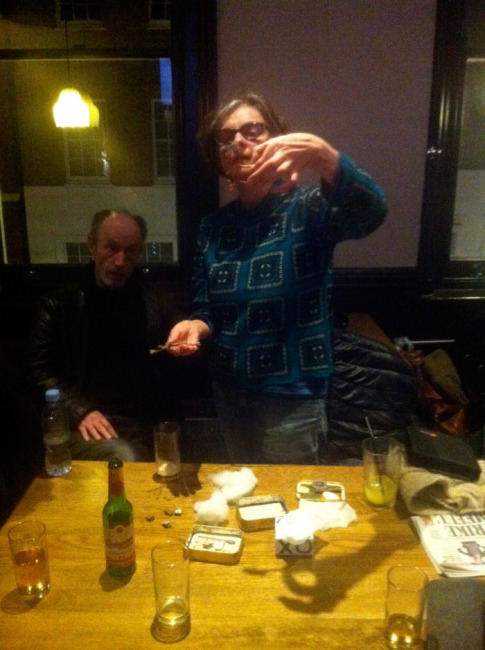 Dear Fellow Drinkers and Animation Lovers,
At our last event, Emma Calder gave us a special presentation and London premiere of her new film Boudica. The film was a commission for Norwich Castle Museum and is now a resident video installation for their Boudica display. Emma first showed her work at our October 2012 event, so it was a great opportunity to catch up with her most recent work.
Emma brought along reference material and even some of the figures she had made for Boudica and discussed the contribution of mud-larking both to archaeology and animation.
You can see the video of her talk (ably filmed by Captain Zip) here:
If you remember, this was also the night when the London Underground strike started so there was a change the event might not happen at all. But we persevered and there were a very healthy 20+ people there. Among those present were Hugh Gordon and Katerina Athanasopoulou, who helped Emma on Boudica, along with Ged Haney, Fiona Woodcock and Emma's husband Julian Cripps who worked on her 1998 film The Queen's Monastery.
Here are the films Emma showed:
1. 
Boudica
 (2013, 5'32")
2. Random Person 25: No Pine Needles (2011, 1'20")
3. Random Person 9: Quantum Cloud (2012, 1'20")
4. Random Person 10: Coin Toss (2014, 1'13")
6. The Eurythmics: Shame – Animation Only (1987, 4'24")
7. The Queen's Monastery (1998, 6'08")
Then, in order that everyone could get home without the Underground, we finished slightly early.
Many thanks to Emma for an excellent evening.
Love from Martin