London Animation Club Group Show, 2nd September 2019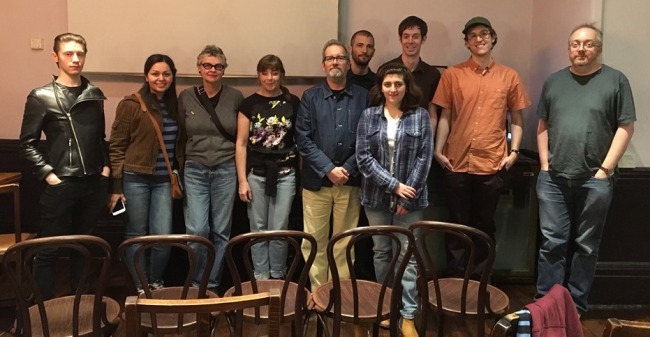 photo by Lizzy Hobbs
Thanks to everyone who took part.
Although the screening was an entirely random selection of films, certain recurrent themes started to emerge: three films were followed a journey, two of those using photographic backgrounds of genuine locations, skilfully integrated with hand-drawn animation; three films used real-life interviews as their soundtrack but in very different ways; and two films illustrated a drive towards the far right in British politics, although one was entirely abstract, the other completely figurative. Two other films, although live-action, sat well within another recurrent image of locations unpopulated by human beings. All the film makers spoke about their work and the evening concluded with a darkly humorous discussion of Boris Johnson.
I will be putting a video-recording of the filmmakers talking at the LAC website sometime soon. Thanks again, everyone!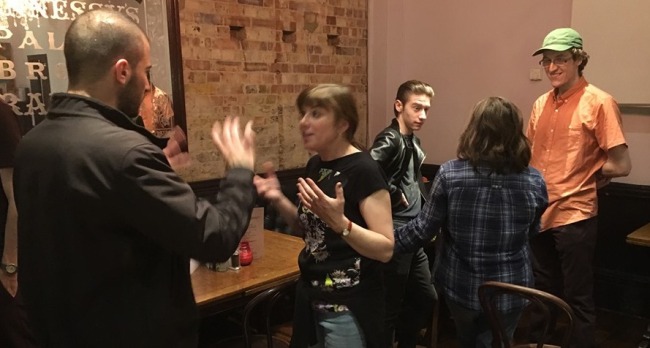 The films shown were:
Fred's Night Out (Middlesex BA Animation film, 2D) by Anayis Der Hakopian
All You Can Eat (RCA MA Animation graduation film, 2D) by Dimitris Armenakis
Bastard Island Trailer (a trailer for a CD release, live-action) by Steven Ball
Random Walk (the latest in her Random Person series, stop-motion) by Emma Calder
Picking Up Habits (Bournemouth BA Animation animatic, 2D) by Lucas Gaveglia
Within These Walls (a documentary about the deserted Holloway Prison) by Rob Munday
Settlement (a live-action film showing the avian and ovine inhabitants of the northern most point of Britain) by Steven Ball
Trotters (abstract digital animation) by Stuart Pound
What's Next (music promo for the song by Piroshka, 2D) by Bunny Schendler