Joseph Wallace, 5th March 2019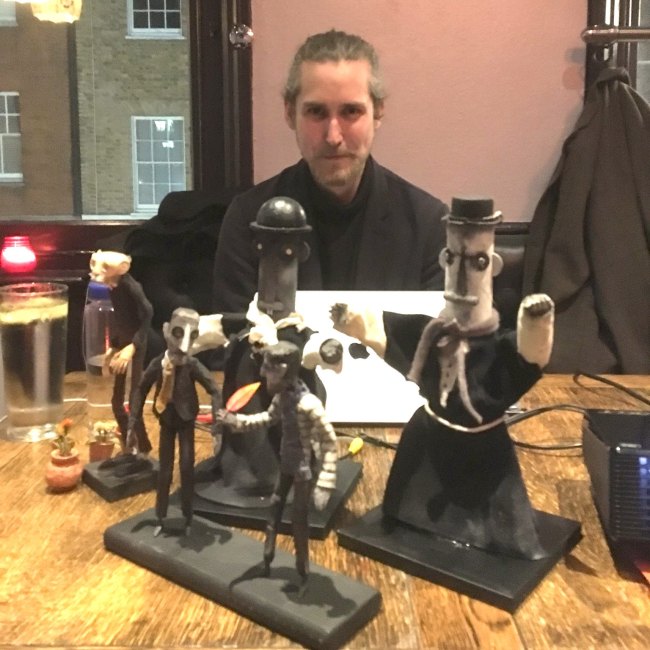 Joseph and a selection of his puppets.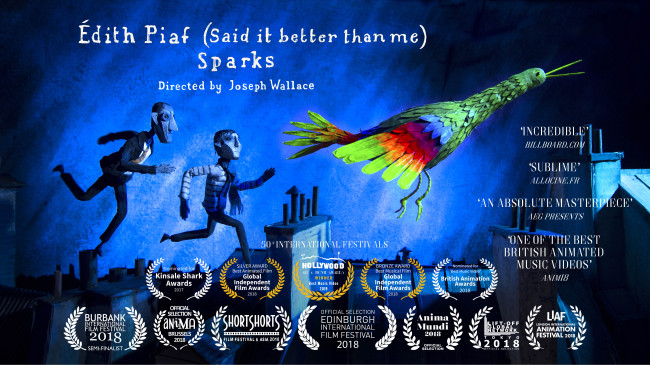 Joseph Wallace is a BAFTA Cyrmu nominated animation and puppetry director. He has written and directed more than a dozen short lms since 2007, which have received international acclaim and screened at festivals around the world including Kraków Film Festival, London Short Film Festival and Edinburgh International Film Festival, as well as receiving Vimeo Staff Picks. In 2017 Wallace undertook a development residency at the Open Workshop in Denmark and won the Visegrad Animation Forum pitching prize in Czech Republic for his new short lm.
His 2018 music video for the Canadian singer Parker Bossley received a Vimeo Staff Pick and was hailed as a 'triumphant return to cut-out animation' by website Directors Notes. His previous music video for American band Sparks trended on both Youtube and Vimeo, was featured on countless websites and screened at over 40 international lm festivals. Described as 'sublime' by French site Allociné, the video won two awards as well as being nominated for the Kinsale Shark Awards, British Animation Awards and long listed for the 1.4 Awards. Extracts were played on BBC's Newsnight and the One Show and the video featured on the Guardian online and VICE news. The video was later named as one of the ten best British animated music videos of all time by Anim18.
In addition to his lm work, Wallace has a background working in theatre with companies such as the renowned Handspring Puppet Company, creators of War Horse. In 2015 he was made a BBC Performing Arts Fellow and named one of 32 'Ones to Watch'. In 2009 Wallace was the rst British participant on the prestigious European training programme Animation Sans Frontières, which led him to run a lm collective in France from 2013-2014. He is active as a curator, writer and lecturer, having spoken at festivals and universities internationally. He also curated the lm programme of the 2015 Bristol Festival of Puppetry featuring the work of influential animators the Quay Brothers, OSCAR nominated Barry Purves and the late children's animator Ivor Wood.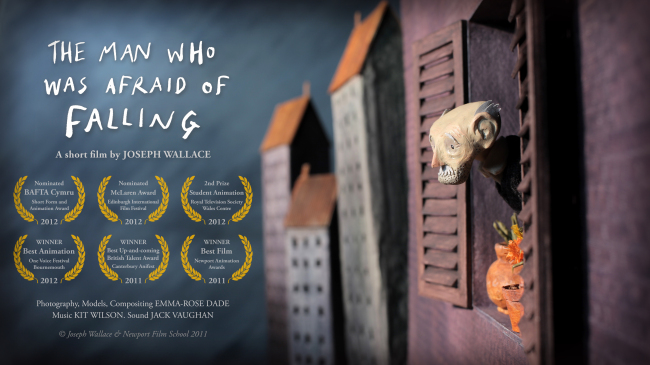 ~ F I LM O G RAPHY~
Salvation Has No Name (currently in production with Delaval / BFI)
Director/Writer/Designer. Stop motion puppet animation.
Chemicals (2018)
Director. Music video for Parker Bossley. 4'20"
Edith Piaf (Said It Better Than Me) (2017)
Director/Designer. Music video for Sparks. 3'32"
Dear John (2016)
Co-Creator. Music video for James. 4'10"
La Forêt Sauvage (2014)
Director/ Designer. Live action puppetry. 1'30"
Natural Disaster (2014)
Director/ Writer. Stop-motion cut-out animation. 4'48"
The Doctor's Tale (2013)
Co-Director. Live action / animation. 0'60"
La Vue (2013)
Co-Director. Live action. 0'20"
Star of Wonder (2012)
Co-Director. Stop-motion object animation. 1'16"
The Man Who Was Afraid of Falling (2011)
Director/Designer. Stop-motion puppet animation. 4'28"
Swarm (2010)
Co-Director. Live action dance lm. 27'00"
We Weren't The First Ones Here (2010)
Director. Stop-motion puppet animation. 5'21"
Objects of Desire (2009)
Director. Stop-motion object animation. 5'13"
The Life and Death of Isambard Kingdom Brunel (2009)
Director/Writer. Stop-motion cut-out animation. 3'31"
Stopping by Woods on a Snowy Evening (2009)
Co-Director. Stop-motion animation. 1'39"
The Scientist and the Omnipotence of Dream (2008)
Director. Stop-motion puppet animation. 2'16"
Curiouser and Curiouser (2007)
Director. Stop-motion puppet animation. 1'30"
Showdown at Yohoko Valley (2007)
Co-Director. Stop-motion object animation. 1'30"