Linda McCarthy and Steven Appleby, 3rd February 2013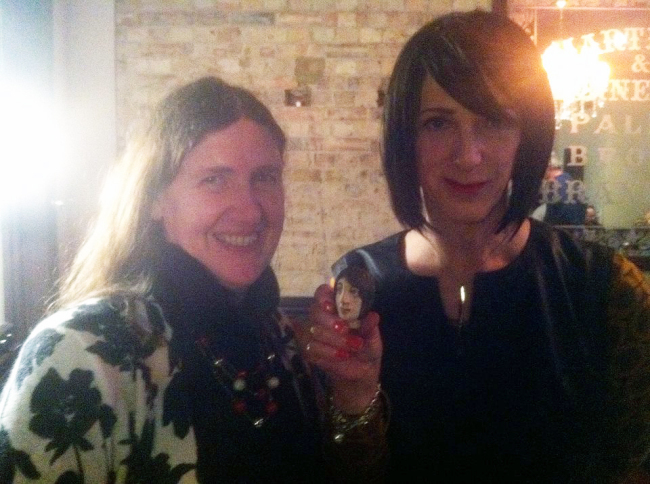 Our special guest were animator Linda McCarthy and cartoonist Steven Appleby. I first met Linda and Steven at the Annecy International Animation Festival in 2008. Linda has already showed some work at London Animation Club but sadly not for a while as she lives in Chester. So, partly to satisfy my own curiosity to find out what they have been working on lately, I invited the two of them to present a selection of their films, many of which they collaborated on. Linda and Steven's talk and Q&A lasted forty minutes, the longest we have ever had and they were brilliant.
Steven spoke first and described his work as a cartoonist and illustrator going right back to the NME in 1984, his cartoons in The Times and The Guardian and even his recent commission to paint murals for a hospital ward.
Linda, who is also a prolific ceramics designer, described her move into film making and how her collaborations with Steven came about.
They then introduced a screening of their films:
PROGRAMME 1
1.
Captain Star – title sequence
(1997) by Pete Bishop. This animated series was adapted from Steven's comic of the same name.
2. Small Birds Singing (2007) by Linda McCarthy, adapted from Steven's comic strip
2. A Traditional Christmas At Small Birds Singing (2009) by Linda McCarthy, adapted from Steven's comic strip
3.
Small Birds Singing: Hinterland
(2010) by Linda McCarthy, adapted from Steven's comic strip
4. Mother's Land (2012) by Linda McCarthy: a music video for The Long Dead Sevens


5. Ident for Bradford Animation Festival 2011 by Steven Appleby and Linda McCarthy

6. Pip – an animation using felt (a work in progress) by Linda McCarthy
7. Small Birds Singing: The Grand Easter Egg Hunt (2010) by Linda McCarthy adapted from Steven's comic strip
Linda had brought examples of her animation puppets and Steven a number of pages of original artwork. It was really nice to see how many audience members chatted to them during the interval and what a friendly atmosphere this created.
After the break we showed a selection of films which audience members had brought on the night, along with a few things I had found, and closed the evening with another film by Linda and Steven.
PROGRAMME 2
1. The Jingles: Like A Rainbow. This inspired clip from a C Beebies show is a fine cover of a Rolling Stones song.
2. Exquisite Corpses – Rough Cut by London Animation Club. This was an advanced screening of our London Animation Club group project made by sixteen animators, many of whom were in the audience. I hope to show the finished version at our next event.
3. Dots & Loops by Stuart Pound/Martin Pickles. I took the strip of 16mm film which Stuart brought along to his talk at London Animation Club last month and turned it into a QuickTime movie.
4. Hill Film (2013) by Ben Fox. A marvellous landscape film which resembles a series of beautiful Daguerrotypes. Absolutely stunning.
5. Suchstuff (2013) by Ben Fox. Another Surrealist work with touches of Melies!

6. Untitled (2013) by Darshan Raja Rayan
An inspired action-animation which is only two-seconds long! I nearly fell off my chair.
We finished at 10.30pm and the world was a better place.
Thank you again to Linda and Steve for going to such a lot of trouble. I would also like to thank John Fryer who kindly volunteered to film Linda and Steven's Q&A. This video will shortly be available on Vimeo and YouTube.
And thank you to everyone who came. We had a healthy audience of thirty people.
We return on Tuesday 5th March with a special guest I will reveal soon.
See you then.
Love from Martin
P.S. Here is some further reading:
Steven's website: http://www.stevenappleby.com/
Steven on Wikipedia: http://en.wikipedia.org/wiki/Steven_Appleby
Linda's website: http://www.tinyelephants.co.uk/
Linda's YouTube channel: http://www.youtube.com/user/smallbirdssinging
Captain Star on Wikipedia: http://en.wikipedia.org/wiki/Captain_star