Martyn Pick at London Animation Club, 7th October 2019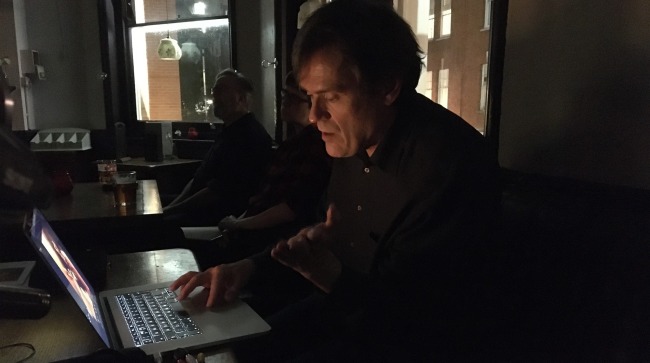 Martyn revisited us four years on from his first screening at London Animation Club. He screened mainly new work and offered us such fascinating insights into his creative workflow that the evening could as easily have been an industry workshop or festival event. Martyn has also provided the setlist below, along with detailed information on each piece. Many thanks to Martyn.
1 INTRO
How it is driven by my art style that goes back to my charcoal drawings at St.Martins School of Art. Includes examples from my art animated Gillette, BBC Euro commercials and then the application of that look/aesthetic to more photoreal live action/cgi in "The Age of Stupid" doc and my feature debut "Ultramarines: A Warhammer 40,000 Movie".
An overview of my pre-2015 career across CGI and hand painted animation.
A montage of my CGI/Action Direction
A montage of my 2d Painterly Animation Direction
STV Gaelic. Hand Drawn Animation
Gillette World Cup. Hand drawn commercial
The animation sequences I directed on "The Age of Stupid
As animation director on "The Age of Stupid" I directed this opening sequence from the big bang through the the credit sequence, through the devastated world and into the archive.
vimeo.com
The Desert Battle Scene from "Ultramarines" my feature film directing debut.
The gritty battle in the desert from my Warhammer feature. I was influenced by the Wild Bunch and Orson Welles's Chimes at Midnight.
2 FULCI FUNHAUS
A one minute piece I did for Martin Pickles for the One Minute Animation show at the Hull Museum of Club Culture. It was later picked up by Vanya Balogh for his group show at the Venice Biennale in 2017. I used the format as a shop window for me to go back to my earliest artistic origins where I evolved images under the camera and would have a wild morphing loose abstract style…
3 WOMEN OF 1915
My opening sequence for the documentary feature film "Women of 1915" (dir Bared Maronian) about the suffering and resilience of Armenian women who had been caught in or survived the Armenian Genocide of 1915. It uses digital painting to represent their culture, bringing to life the ancient Armenian gods and godesses and then depicts the holocaust of a century ago. The sequence was nominated for a regional Emmy ward in 2017.
4 BLUE MOON
Through my own interest in genre movies, my experience in staging live action and my fast sketched style of visualisation I have got into  live action genre movies. My first live action feature was the supernatural thriller "Evil Never Dies" (originally "The Haunting of Harry Payne"). I storyboarded  the whole film which gave it strong graphic compositions and the film was shot at an abandoned US airforce base in Suffolk. It has been distributed globally and sold to Sony TV Channels. Wanting to do a more intensely distilled horror I did the short Blue Moon which is about a werewolf attack on a dogging site! The short had a good US premiere at Grauman's Chinese Theatre in 2016 in Screamfestla (the top horror festival in the US).
The trailer for "Evil Never Dies" (Aka "The Haunting of Harry Payne")

The trailer for my first live action feature as director.
The trailer for "Blue Moon".
5 ROBOZUNA
Based on my experience of CGI pipeline on the Warhammer movie (Ultramarines) and the UK/Chinese project Shudan, I directed the storyboards and voice directed on 40 half hour episodes of Robozuna for Netflix/ITV! I brought my sense of cinematic composition, dynamic movement and atmospheric lighting. And from my live action experience, my ability to direct ensemble actors.
6 HECKLE
Following on from Blue Moon, the same producers raised money for a horror feature film Heckle which stars Steve Guttenberg, Dani Dyer and Toyah Wilcox. I directed it with strong colour design throughout the film emphasising different moods, it has a vivid Giallo feel with the installation art coloured neon mixed with verite camerawork and naturalistic UK acting…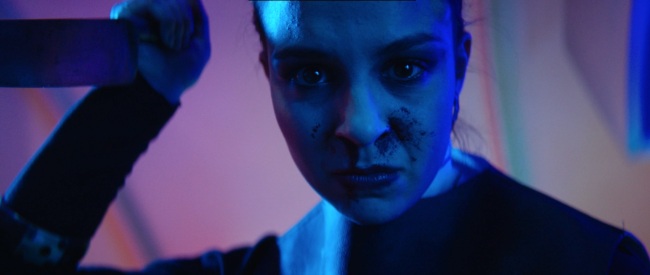 7 BEOWULF AND WITCHCRAFT FOR LADYBIRD BOOKS
Building on my use of concept art and storyboarding throughout my career I have illustrated two books for Ladybird experts for adults. One for the historian Suzannah Lipscomb  on the historical persecutions based on "Witchcraft" and one for historian Janina Ramirez on the Anglo-Saxon Epic Poem "Beowulf" and the culture that surrounds it.  Doing this succession of stills (24 colour images per book) was a great way to show my rich dramatic visual style without budgetary restraints!
8 COUP 53
This is a particularly strong use of my style of digitally painting into live action. Here it used to give an expression oil painterly effect to dramatise 6 minutes of scenes showing unrest on the streets of Tehran in 1953. Dir Taghi Amirani's documentary feature describes how UK/US agents destabilised Iranian democracy back in 1953 to keep control of the oil. The film is edited by the legendary editor Walter Murch of Apocalypse Now, Godfather, English Patient, Talented Mr Ripley and Conversation reknown. The live action we shot and the archive footage all had a visceral hand held feel throwing you into the melee of the action. This was then really pushed with the hand painted brushstrokes and impasto textures. The film has had three sold out screenings at the London Film Festival at Vue Leicester Square, BFI Southbank and the ICA. Following great word of mouth at the Telluride Film Festival, endorsements from the likes of Werner Herzog and great reviews in Screen International and the Hollywood Reporter. There are continuing sold out screenings at prestigious film festivals.
9 RECENT WORK
Concept art for commissioned sci-fi projects, live action commercials for "Hasbro:Magic the Gathering":
https://www.pcgamer.com/uk/the-tale-of-the-lovestruck-beast/
Magic: The Gathering – The tale of The Lovestruck Beast
A twisted tale from Eldraine.
www.pcgamer.com
Motion graphics artwork for a horror film and visuals for my own radical action film: "Monomyth"
Biog
Martyn Pick is a director and artist recognised for a distinctive fusion of live-action and animation.
In feature films, commercials and shorts he applies his fluid, cinematic storytelling across live action, computer and hand animation. He directed the cgi action feature film "Ultramarines: A Warhammer 40,000 Movie" (2010): starring the facial acting of Terence Stamp, Sean Pertwee and John Hurt.
Credits also include Film London's promotional short for the 2012 Olympics, BBC's trailers for Euro 2004, animation direction on the 2009 film "The Age of Stupid", Budweisers 2001 NBA commercial and the Channel 4 live action/ani-mation short film "Plaza" (2000).
Martyn studied Film and Fine Art at Saint Martins School of Art and his work has been continually driven by the crossover between painting and cin-ema. Funded by the Arts Council and the BFI, early art animation films such as"Taboo of Dirt" and "Signature" dramatised dark political subject matter with a raw textured charcoal style. This led to directing many commercials, pop promos and idents in London animation studios (winning Chicago Gold Plaque and Promax awards). Using his storyboarding as a template he expanded into cgi and pure drama. In live action he has directed the short "Green" (Film Four) and the supernatural thriller feature "Evil Never Dies"(2014).
Horror short "Blue Moon" screened at Screamfest LA in Nov'16 and he directed animation se-quences on the award winning US feature documentary "Women of 1915". In CGI he has developed a UK/Chinese animated franchise and was Head of Story and Voice Director on 40 half hour episodes of the Netflix/ITV kids sci-fi cgi series "Robozuna". His hand digital art has been exhibited in galleries in the UK, Europe and China. For Penguin/Random House he illustrated the books "Witchcraft" and "Beowulf", bringing his art style to publish-ing. In 2019 he completed direction on the live action horror feature "Heckle". Matching his work with the content of "Coup 53″ has been a particularly strong use of his painterly ani-mation style.
website      www.martynpick.com
mobile       +44 (0)7855360294