← Back to Halas & Batchelor at 80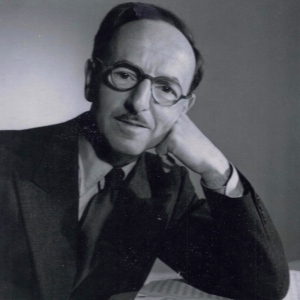 Matyas Seiber (1905 – 1960)
Matyas Seiber composed the soundtracks for most of the Halas & Batchelor films up until 1960, including Magic Canvas (1948), The Owl And The Pussycat (1952) and Animal Farm (1954). At our Halas & Batchelor event on 18th May, we will be joined by his daughter, Julia Seiber Boyd, who has written this short biography:
Mátyáas György SEIBER b. 1905 was the eldest brother of the family, his younger brother György & sister Marika (who married Dezsö Kerésztury, Minister of Culture).
His father was a railway engineer, his mother a piano teacher. His talent with the cello was spotted early on and he attended the Academy as Kodály's student, from 1922-25. One of the "class of 25" – with Whom Kodály travelled around recording the regional folk songs. Bartók resigned from a judging panel at the Academy when Matyas' Wind Sextet was not allowed to win a competition because of his Jewish origins.
He said very little about his family, so there is much I still do not know.
After travelling widely in Europe & America, he settled in London in 1935, his Jazz Class at the Höch Konservatorium, in Frankfurt, having been closed down in 1933.
In London was a large Hungarian emigré enclave – including George Mikes, with whom Mátyás ran the London Podium, and John Halasz – with English wife, Joy Batchelor..
They got on well and Mátyás started doing the music for their films during the WW2. Joy gave birth to Paul about 2 weeks apart from Lilla (whom Matyas married in 1946) giving birth to me – in 1949. Vivien is a few years older.
Our families were close friends & Vivien & I played together as kids, so it was a great pleasure to meet up again in Kecskemét at the Animation Festival there in 2006 – after something like a 40 year gap. Animal Farm had been banned during the soviet era, so it got close attention when screened there.
My father did much of the Halas & Batchelor music during his lifetime – but he was amazingly versatile – from A Cappella (many folk songs and other pieces) for his Dorian Singers Choir, to Operettas for the Hungarians stuck in London during WW2, to the Ulysses cantata for Peter Pears, various Folk Song arrangements for Julian Bream, to String Quartets (the 3rd for the Amadeus), to Horn Notturno for Dennis Braine – and always the continuing interest in Jazz, with many articles on syncopation, rhythm, serial music, music for animation. He also did other film music – the best known being A Town Like Alice.
He was trying to get the stodgy British Music establishment to move forwards and accept that all genres had their value. His jazz & accordion music still had to be published under the pseudonym of G S Mathis. As a founder member of the SPNM and his other activities, including teaching at Morley College from 1942, provided the platform. Mostly he taught composition at home (recognised as the best teacher of his generation in the UK) – so I met his pupils from all over the world, from Australia, South Africa, Sweden, Germany as well as the UK.
Like John & Joy, he felt things needed to be said and that it mattered for civilisation. He was killed in 1960, at the end of a tour to South Afrika.
Brexit would have been completely incomprehensible to both my parents – immigrant artists have always contributed so much to the cultural fabric of British society. They would be equally horrified at what is going on in Orbán's Hungary. I have mentioned to Vivien how much the madness in the eyes of Orbán looks like Napoleon in several Animal Farm shots……
Since his centenary in 2005, I have been working on bringing out a series of CDs – A Cappella/ Cello & piano & vocal pieces/ the James Joyce settings/ some only Seiber & other joint CDs – the latest was largely clarinet – done in Germany. Vivien & I have been talking about the next one – the Film Music – for several years. It has been difficult to get a) good enough recordings, or b) anyone interested in producing it. We hope this can now be resolved…
© Julia Seiber Boyd