Nancy and Nik Phelps, live from Belgium
Friday 17th September 2021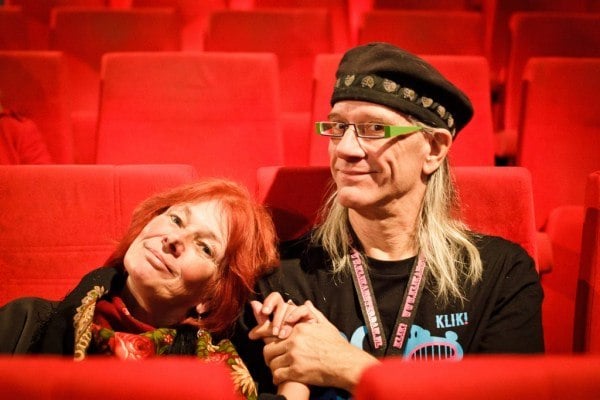 Animation Journalist and historian Nancy Denney-Phelps and composer/musician Nik Phelps joined us live from their home in Ghent in Belgium. Nancy writes extensively about European animation festivals, has sat on numerous juries, and is the pitching coach at ANIMART in Łódź, Poland. Nik created the music for the television series Felix the Cat as well as for numerous animated films and appears playing on numerous Tom Waits' albums.
They attended ANIMAKOM Fest in Bilbao, Spain, last July, where Nancy recorded interviews with Basque animator Sonia Estévez, script writer Ana Hormaetxea, and festival director Pedro Rivera, which we screened.
Anyone who attends international animation festivals will know Nik and Nancy and I was delighted to welcome them to London Animation Club.
Here is a video of the live Zoom event, which includes two of the interviews Nancy recorded and a selection of animated films for which Nik provided music. The films were:
Felix The Cat: Woos Whoopee (1928)
The Twisted Tales Of Felix The Cat: Don't String Me Along (1995)
Bessie's Song
The Three Scholars (1999)
The Sprocket Ensemble accompanying a screening of Idiots And Angels by Bill Plympton (2008)
Intermission sequence of Sita Sings The Blues (2008)
Here are the three interviews Nancy recorded at ANIMAKOM Fest:
Ana Hormaetxea
(Biography taken from https://zinemakumeak.com/es/guest/ana-hormaetxea)
Born in Bilbao, 1974. Degree in Audiovisual Communication (University of Navarra 1996). He has been creating content for different platforms for almost 20 years. As a television scriptwriter, he has worked mainly in series and programs for ETB: "Go! Azen" (currently), "Give it a ride" (contest), "You to the north and I to the south" (reality), " What a little week "," This is not serious, is it? "(Sketches)," Turn of the screw "(magazine)," Balbemendi "(series) among others. In addition, she has also written different projects for feature films and fiction series, currently under development ("Ladronas", "El tesoro de Lehman") President of FAGA (Forum of Audiovisual Scriptwriters Associations), Secretary of EHGEP (Basque Scriptwriters) and partner CIMA (Association of Women Filmmakers and Audiovisual Media).
Sonia Estévez
(Biography taken from https://animakom.com/en/juror/sonia-estevez)
Sonia Estévez is a director, executive animation producer and animator. She has directed and made several animated short films and various music and video dance video clips and advertising videos. She is currently a founding partner and administrator of Tik Tak Animation, an audiovisual production company of social initiative specializing in stop motion animation. Within her filmography we can find works such as video identities and video ad campaigns in stop motion and the flamenco dance and sand animation show "Voces del viento" (2018) and the short films "Abiadura" (2015) or "Hoy es sólo para ti" (2012-14).
Pedro Rivera
(Biography taken from https://www.imdb.com/name/nm1038878, with additions)
Pedro Rivero is the director of ANIMAKOM Festival in Bilbao Spain. He is a noted scriptwriter for both animation and live action films, best known for The Platform (2019), Birdboy: The Forgotten Children (2015) and Birdboy (2011). He was born in 1969 in Bilbao, Spain.
See Nancy's animation blog "sprockets" at http://awn.com/blogs/sprockets