Nude Triumphant, 30th March 2020 at 8pm: LAC TV Broadcast
A recording of the live transmission:
What with the current World Pandemic, we were unable to have a live event from the Green Man at 36 Riding House Street as planned. We instead made our first entirely live broadcast with special guests Leo Crane, Roy Joseph Butler and Abigail Addison presenting their Nude Triumphant project as a work in progress. They introduced the project, screened a five-minute behind the scenes film and closed with a screening of the eight-minute film/animatic of Nude Triumphant. It was followed by a Q&A, answering from questions posted live on the LAC TV FaceBook page. The broadcast was engineered by LAC technical director Tom Lowe and lasted an hour.
You can read information about the project below and see all the comments, saved by Tom, at the very bottom. We plan to transmit all our events live for the foreseeable future.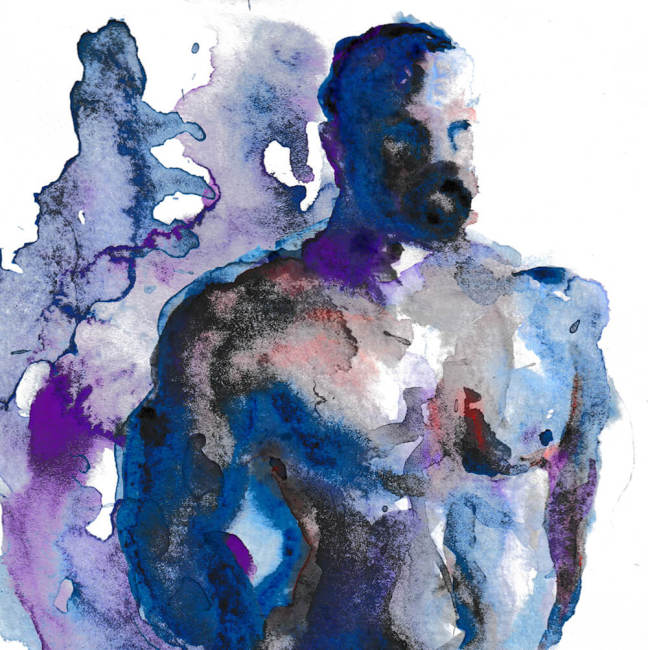 NUDE TRIUMPHANT
Jay rushes to get ready for another frantic day. Armoured against the sights and sounds of the City, he races against time until a chance encounter knocks him off course. He is propelled into a strange watercolour world: The Starkers Academy. Here three Nudes reveal their truth and an enigmatic Professor directs time. But will Jay dare to expose himself in order to find the clarity and connection he seeks? Time will tell.Drawn from the real experience of life models, Nude Triumphant tells a story of finding calm in a relentless existence and learning to appreciate our own unique identities. A vibrant watercolour animation, it combines painting from life with experimental digital techniques. This short animated film is at the heart of a collaborative, cross-artform celebration of identity, including live performances, exhibitions, screenings, talks and public workshops. Currently in production, the film is expected to be finished in May 2020, with an official launch at the Brighton Fringe in October.Work in progress on the film will be presented by key members of the project team, including Director Leo Crane, Animator Haemin Ko and Producer Abigail Addison.Leo – Leo is an award-winning animator and artist and co-founder of creative studio Figuration. His artistic career follows 20 years' devising and delivering campaigns for some of the world's greatest cultural institutions.
Ko – Ko is an award-winning animator and artist whose work attempts to scratch beneath the surface of her surroundings. She has a degree in Fine Art, and is a recent graduate of the Animation Masters course at Central St. Martins, where she now teaches.
Abigail – Abigail is a Producer, Programmer and a Director of Animate Projects. Animate works at the intersection of film, art and animation.
MESSAGES DURING LIVE TRANSMISSION