Previous Event
Subsequent Event
Emma Calder
presents
Roger Ballen's Theatre of Apparitions
Tuesday 1st November 2016
Emma Calder presented a special screening of hers and Ged Haney's new film Roger Ballen's Theatre of Apparitions. Our good friend Nag Vladermersky also joined us in the second half to tell us about the next London International Animation Festival in December.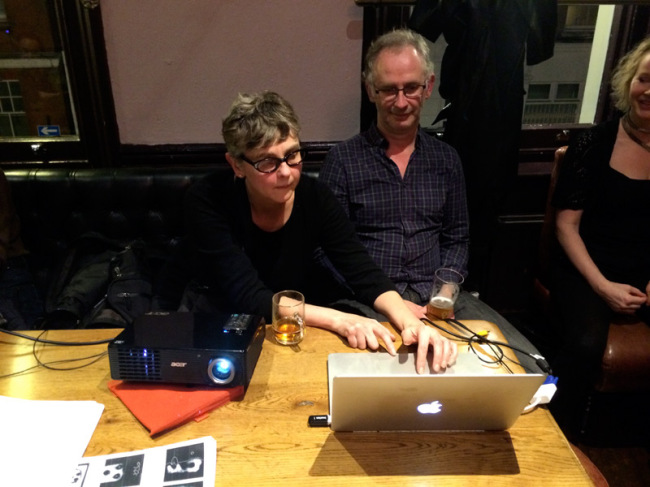 Roger Ballen's Theatre of Apparitions The film is based on a large series of photographic drawings done in collaboration with Marguerite Rossouw which feature in his forthcoming book A Theatre of Apparitions to be published at the end of September 2016 by Thames & Hudson. Roger Ballen's famous photographic work has been concerned with the interior architecture of standing structures, playing on the metaphor of the mind as a house of secrets and buried narratives. He has created a series of images inspired by the drawings and marks which people make on their environment that link his unique aesthetic to theatrical performance.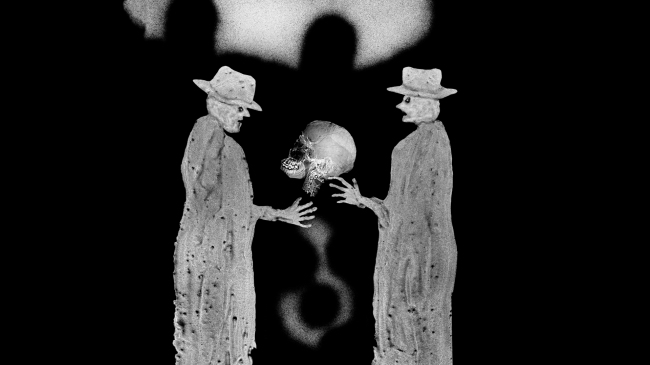 Emma Calder and Ged Haney have used 2d computer animation and a brilliant music score by composer John Webb to turn these images into a film reminiscent of an old music hall or circus. In the theatre dismembered people, beasts and ghosts, dance, tumble, make love and tear themselves apart, plunging the audience into the nightmarish world of Roger Ballen's subconscious.
Emma Calder (Director/Writer/Animator)
Emma Calder was born in London. She studied Graphic design at The Royal College of Art. She has worked as a Animation Director, Artist, Graphic Designer and Lecturer and has written, designed and illustrated books, for both adults and children. She co-founded Pearly Oyster Productions making many successful and award winning animated films, including The Queens Monastery (BBC). Emma is currently making a series called Random Person and writing a feature.
Ged Haney (Director/Writer/Animator)
Ged Haney is an animator and director. In 1989 he co-founded Pearly Oyster Productions with Emma Calder, leaving in 2005 to work in Germany. He is now back in London. He is currently working on a new film: Eddie and Winston, exploring the lives of two budding South London Sociopaths.
John Webb (Composer)
John Webb is a composer and workshop leader. Recent works include Into the Light for 2000 children and small ensemble, The Last Plantagenet for choir, orchestra, solo voices and Indian musicians, and The Girl Who Never Looked Up commissioned by the National Theatre Learning Department.
Credits
Directors: Emma Calder, Ged Haney
Writers: Roger Ballen, Marguerite Rossouw, Emma Calder, Ged Haney
Producer: Emma Calder Animation: Emma Calder, Ged Haney
Editor: Emma Calder
Executive Producer: Roger Ballen
Sound Design: Emma Calder
Sound Editor: Emma Calder Additional
Sound Editing: Tom Lowe Artistic
Director: Marguerite Rossouw
Composer: John Webb
Screenings
The world première was at The Edinburgh International Film Festival in June 2016
London Première as part of the BFI London Film Festival in the program:Cult / TALES OF MYSTERY AND IMAGINATION in October 2016
It was shown at Encounters in Bristol on September 22nd 2016
The Jahorina Film Festival Bosnia in September 2016
Bend it Festival, Oregon, Tofuzi, October 2016
Animation Festival, Bulgaria, October 2016
Orlando Film Festival, October 2016
ANIMEST in Bucharest, Romania, October 2016
Cut Out Fest Mexico in November 2016
London International Animation Festival (LIAF) at the Barbican in December 2016
LSFF in January 2017