Sarah & Duck, 4th March 2014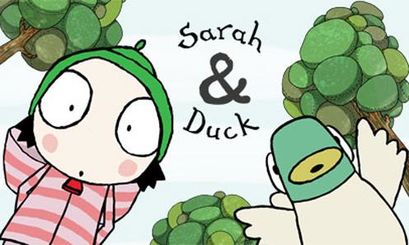 Dear Fellow Drinkers and Animation Lovers,
Here is the write-up of our Sarah & Duck event of 4th March. I think it is really important that children's TV animation is represented at London Animation Club, not least because Sarah & Duck is so charming. It was also a great opportunity for us to see how an animation studio works on a long series. Series producer Jamie Badminton put together the talk, presented the films and interviewed the other guests.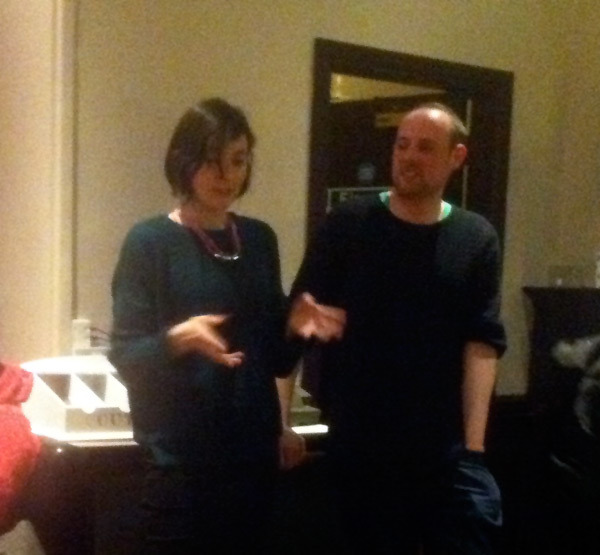 Sarah Gomes Harris, creator of Sarah & Duck and producer Jamie Badminton

So, on 4th March 2014 our special guests at London Animation Club were Jamie Badminton (Producer), Sarah Gomes Harris (creator and writer), Benjamin Thomas Cook (co-writer) and Tanera Dawkins (composer). Jamie and Tanera actually met at London Animation Club back when we were based at the Coach & Horses, so here is another collaboration which came about through one of our evenings.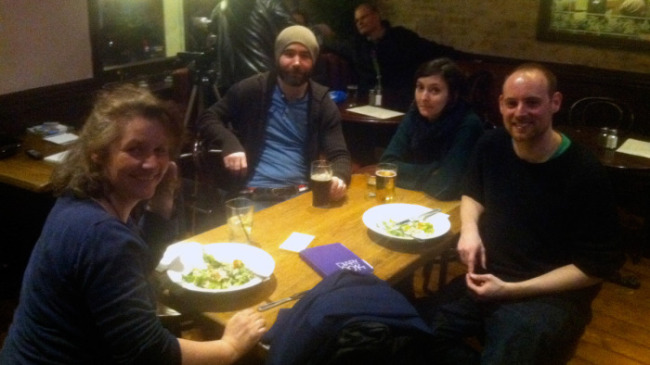 Tanera Dawkins, Benjamin Thomas Cook, Sarah Gomes Harris and Jamie Badminton

In this write-up, I have included links to the episodes Jamie showed where possible, but most are only available as paid downloads. However, the evening was ably filmed by Captain Zip, so all of the talk is available on the LAC YouTube channel.

First of all Jamie did a solo introduction and then conducted a Q&A session with Sarah Gomes Harris. You can see the video here:

Then Jamie showed these films:

1. Trailer – The original series trailer for Sarah & Duck

2. Sarah & Duck And The Penguins

3. Sarah & Duck And Doubles
The one about tennis

4. Sarah & Duck And The Strawberry Souffle

After a short break, Jamie interviewed Tanera about the score she composed for the series. You can see a video of that here:

After than Jamie showed:

5. Music Compilation – a selection of clips which feature Tanera's music prominently

6. Sarah & Duck And The Fireworks Dance.

The last section was a more informal talk, in which Jamie spoke to Tanera, Sarah and co-writer Benjamin Thomas Cook. And you can see the video of that here:

And you can see some photos of the evening here too:https://www.facebook.com/photo.php?fbid=10152354310195739&set=o.83549374968&type=3&theater.

So, thank you to Jamie Badminton, Sarah Gomes Harris, Tanera Dawkins and Benjamin Thomas Cook for a wonderful evening and to Captain Zip for doing the filming.

The write-up of our 1st April event with Animate Projects' Gary Thomas will be appearing soon.

Love from Martin