< Joan Ashworth, 2nd May 2018                                                                 Group Show, 4th July 2018 >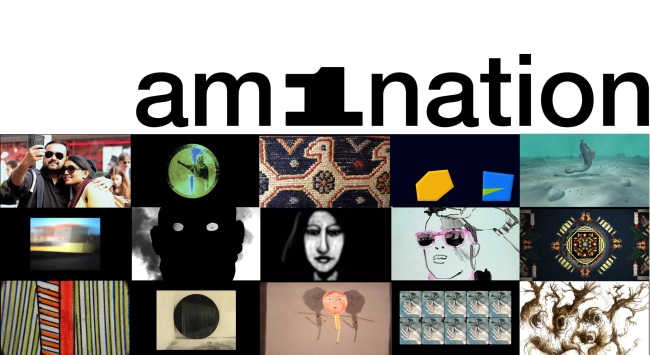 Am1nation '18, 6th June 2018
A special screening of Am1nation, a programme of one-minute films by members and guest speakers of London Animation Club. It was originally commissioned by Kerry Baldry for the One Minute Hull Artists' Moving Image Festival in November 2015 and then revised in 2018 for a series of screenings in Wales.
I was delighted that contributing filmmakers Jonathan Hodgson, Emma Calder. Ruth Stella Lingford, Lizzy Hobbs, Philip Sanderson, Bunny Schendler, Rob Munday, Vicky Dale and Stuart Pound all came along. We showed the Am1nation programme in the first half and in the second half some more one minute films by Steven Ball and Philip Green, Kevin Baldwin and Philip Green which hadn't made it into the actual programme. We closed with Ruth's new film Trump Dreams.
I put the filmmakers on the spot by asking them questions but this led into an interesting discussion about how animators need to function now that the glory years of production funding are far behind us. I'll put some video of it online very soon. A massive thank you to everyone who contributed and attended.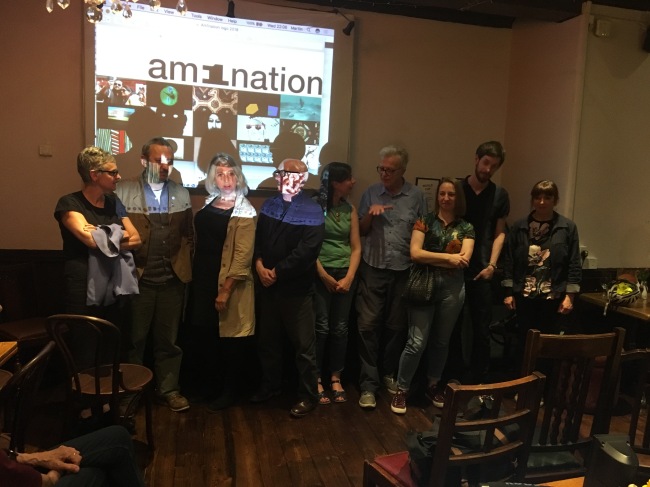 Filmmakers, left to right: Emma Calder, Jonathan Hodgson, Ruth Lingford, Philip Sanderson, Lizzy Hobbs, Stuart Pound Vicky Dale, Rob Munday and Bunny Schendler
The full programme was:
RUG – Jonathan Hodgson, 2015
METAPHOR – Phil Mulloy, 2015
TIRED PARENTS: YOUR TURN PART I – Tim Hope, 2015
FILING THE FANGS – Lizzy Hobbs, 2010
THE LADIES' TREE (PART 1) – Ruth Lingford, 2013
RANDOM PERSON: VASECTOMY – Emma Calder, 2014
HARD CASH – Dennis Sisterson, 2015
UNCLEAR PROOF – Max Hattler, 2013
IF BRITAIN WERE SYMMETRICAL – Kate Jessop, 2015
TIRED PARENTS: YOUR TURN PART III – Tim Hope 2015
EXCHANGES – Bunny Schendler, 2015
CLAPPERBOARD – Rob Monday 2016
FILM OF THE SAME NAME (EXTRACT) – Steven Ball and Philip Sanderson
2014 FLORA – Stuart Pound, 2015
LOVE LOVE – Ian Gouldstone, 2014
WARD – Martin Pickles, 2014
OVERFLOW – Jane Cheadle, 2015
TGV TEST LOOP – Mario Cavalli, 2009
LADY.MOVING.TRAIN.MAN – Rob Munday, 2014
RANDOM PERSON: BACK TO THE WOODS – Emma Calder, 2012
TIRED PARENTS: NEW BOOK – Tim Hope, 2015
THAT SOUND – Phil Mulloy, 2015
NEAREST NEIGHBOURS – Ian Gouldstone, 2015
RED ROUTE – Benjamin Fox, 2012
FULCI FUNHAUS – Martyn Pick, 2015
LAYMAN SHAMAN DAYDREAMIN' – Lizzy Hobbs, 2010
ON THE TURN – Ruth Lingford, 2014
THESE GUYS ARE UNBELIEVABLE – Phil Mulloy, 2015
RANDOM PERSON: MY BRAIN IS NUMB – Emma Calder, 2015
TIRED PARENTS: NIGHT OUT – Tim Hope, 2015
FLEEING THE CITY – Mario Cavalli, 2013
THE LADIES' TREE (PART 2) – Ruth Lingford, 2013
BLUE'S SONG – Joan Ashworth, 2015
SECOND HALF
HOW THE DINOSAURS DIED OUT by Kevin Baldwin
KEITH MUST DIE – RETURN OF THE DEAD GUY by Philip Green
FILM OF THE SAME NAME parts 1 to 4 by Steven Ball and Philip Sanderson
TRUMP DREAMS by Ruth Lingford